Furniture manufacturers Ope and Vestre with beach cleaners, industry and customers as partners, kick off Norway's most ambitious collaboration to clean up after half a century of marine plastic pollution.
The BIG cleanup
Ope and Vestre, together with Environmentalist Rune Gaasø, have founded the company Ogoori, which will offer traceable plastic raw materials collected from the ocean with a guarantee of origin. A large fraction of the plastic is collected by volunteers from all over the world, through the organisation In The Same Boat on their cleanups along the Norwegian coastline. The 100% ownerless ocean plastic will be tracked through blockchain technology from technology partner Empower. The goal is to upcycle 500-1000 metric tons of ocean plastic to new raw materials in 2020 alone.
The Ogoori company name draws inspiration from Captain Oguri Jūkichi who returned to Japan as a hero, having been lost at sea longer than anyone else in history. Just as he returned to Japan as a hero, the reclaimed plastic that we've considered valueless should be treasured for its return from nature. Through Ogoori, the lost plastic will find new value through technology, storytelling and circular economy.
Regenerative Value Chain
"For two centuries, economic growth in the world has been driven by the consumption of non-renewable resources, with 90% ending up as waste after a short time. This is far from sustainable, and an emerging «sustainable» business community is not close enough to rectify the damage that has happened," says Lars Urheim, initiator of Ogoori and CEO of Ope AS. "Sustainable means «in balance», but we can't celebrate balance in a world where 60% of wildlife is lost, greenhouse gases remain in the atmosphere, and the last remnants of untouched nature are eaten up by irresponsible industrialization and development. Sustainability is not enough any more, we need to dig deeper for solutions."
Ope and Vestre both aim to be at the forefront of the race to be the best at sustainability, and it is natural to work together to reach the goal. With Ogoori, we take it a step further and establish what may be the world's first company to deliver «Material as a Service» through what we call a Regenerative Circular Value Chain.
What we need now is a massive restoration of degraded nature, and reviving materials that have gone astray. That's where re-generativity comes in. If we are to have growth in the economy, we must manage to achieve it by cleaning up everything that has gone astray; whether it is returning industrial areas to nature, the extraction of CO2 from the atmosphere, or the cleaning up of plastics in the sea.
This last thing is what Ope and Vestre want to solve through Ogoori, and the principle we call PCS «Plastic Capture and Storage», an analogy to CCS "Carbon Capture and Storage". PCS means treating plastic in nature as an oil by-product that needs to be collected and stored in man made objects in infinite to stop it from polluting the environment ever again.
Showcase to inspire
"The world is in a process of restructuring, and Vestre hopes Ogoori can become a showcase for detaching from the correlation between growth and resource consumption. The development of Ogoori will be relevant to the rest of Vestre's business, and hopefully will inspire other players as well, " says Jan Christian Vestre, CEO of Vestre.
Ogoori represents a community of beach cleaners, waste-, plastic- and finished goods industries as well as their customers, who jointly take responsibility where others have not, and create a truly regenerative and sustainable economy.
It has been assumed that the ownerless ocean plastic has no value, as it is broken down by sunlight, mechanical wear and consists of a mix of different plastic materials. In addition, it is difficult and expensive to clean it up and recover it. A challenging starting point if profit is the motivation, but it is not, even though the Ogoori founders see the economic value in a market where brand reputation is closely tied to the chosen materials of their products.
The high cost is resolved by Ogoori simply not selling the material. Marine plastic is made available to the industry through a rental model, where the long life of the plastic ensures a manageable price for the customer. – "We have checked with researchers we work with, and dare to claim that we are the first in the world to offer raw materials as a service, at least raw materials that are cleaned up in nature", says Ogoori co-founder and chairman, Rune Gaasø.
New value from lost resources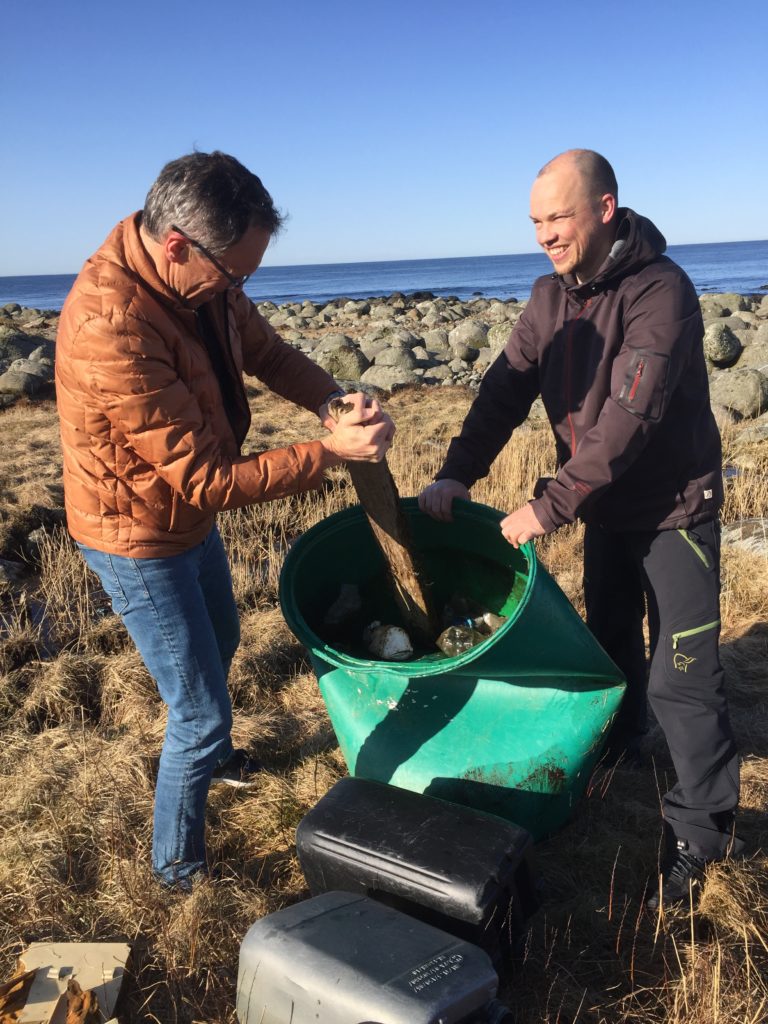 Ope and Vestre also know that this plastic carries something that neither new plastic nor re-circulated plastic from households and industry has, namely a strong history. The plastic is lifted out of nature piece by piece by volunteer and professional beach cleaners through a huge joint effort so that it will not waste, contaminate, be eaten by marine species or broken down into microplastics in the future. Our customers can help facilitate and become a part of this story, by looking after the plastic and at the same time experience the added value that good product and service solutions entail.
Rasmus Hansson, Head of The Norwegian Retailers Environment Fund (HMF) states, "The Norwegian Retailers Environment Fund supported the Ope project from «From Beach To Boardroom» in 2019. We are very pleased that the project is now expanding to an industrial level for re-processing the plastic material to new products in a circular model."
And while it might be tempting to think of this story as a financial gold mine for the owners of Ogoori, that's not the goal. The goal is to create exponential growth in the cleanup, and therefore all the profits from Ogoori will be returned to more cleanup, as long as there is plastic left in the sea. The initiative for the establishment of Ogoori has grown out of the close relationship with the beach cleanup community, where volunteerism and public support is the backbone of the cleanup.
We have no desire to exploit volunteers and government support to make money, but will take a role in evolving these initiatives to create a financial result that can be reversed to ensure even more ocean clean up. Ope's ambition in taking this initiative is to achieve growth with a negative environmental footprint.